Gintoki's Parfait from Gintama
Hello everyone! Sorry for missing a week, it's been hectic in my part of the world, but I'm back with a great new recipe for you to try out.
First, witness the crime scene:
That's right, folks. Gintoki's parfait was cruelly spilled when Shinpachi tripped over the meanie alien-leopards' foot in the corner. And if we know one thing about Gintoki, it's to never mess with his desserts.
Here, watch the whole scene for yourself below: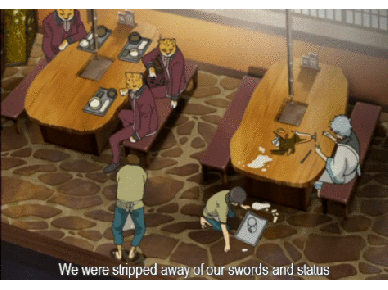 You know, I love Gintoki. I can relate to the guy. He gets low blood sugar, I get low blood sugar. He's pretty lazy, I'm pretty lazy. He is a bad-ass, sword-fighting demon and I'm…well.  Not. I guess that's where comparisons end. In honor of one of my favorite comedic characters, I have recreated the parfait below for you.
The Ingredients
-2 types of chocolate ice cream (I used Belgium Milk ad Chocolate Fudge)
-Whipped cream
-Some kind of mini-donut/ brownie chunks
-Chocolate syrup
-Wafer cookies
-Chocolate Pocky
-Orange slice
A note on the tools: I used a beer glass in lieu of a parfait glass, but anything tall and relatively wide will work. To scoop the ice cream, I used a cookie scoop to get small and uniform globes of deliciousness.
Assembling this Masterpiece of Flavor
First things first, gather your garnishes. One you start working with the ice cream and whipped cream, everything will need to move along very quickly to prevent meltage. Then, simply begin to layer. First, some whipped cream…
Then, the donuts or brownie chunks…
More whipped cream and drizzles of chocolate sauce…
Then, start piling that ice cream on. I alternated between flavors to get the two shades of color into my cup.
Lastly, you pile on your final toppings, and that's it!!!
This recipe is easy, delicious, and refreshing! I can totally see why Gintoki loves his parfaits so much. I hope you can try out this recipe, and let me know how it goes. If you have any comments or suggestions of recipes I should try, please feel free to leave them below! Thanks for reading, and have a great day. 🙂
#Delicious #Yummy #pocky #Gintama #chocolatesauce #dessert #Parfait #wafers #icecream #Gintoki #Shinpachi #whippedcream